The BRAND NEW Lifted Grasshopper™ Model

Want a faster and bigger Cricket mini golf cart. The
Grasshopper™
is based of the
RX5 body
. This model is great for offroad campgrounds, horse events, boat docks and exploring the outdoors on a rough terrain. Custom patented 4 bolt aluminum hubs, patented aluminum spacers, 10" wheels w/ 18" tires, patented motor modifications and upgraded electronics. You will NOT find this model at any other dealer. The larger footprint of the Grasshopper™ is increased in width, height and length and allows this Cricket to climb over more obstacles. The speed control is increased to gain about 15-17 mph depending on load and grade. Maximum Riding Grade Level 10%. The rear cargo rack can accommodate additional off road supplies; coolers, camp chairs, our 2 extra passengers. Not to be operated by drivers under 16 years of age. Due to the nature of these lifted vehicles, there is some turning rub from steering restraints. The Grasshopper model is still collapsible. The total height is now 34", Width is 39", Length is 74" (extended),60" (collapsed). The biggest gain is the overall height on the frame. The weight of the Grasshopper™ is 480lbs. Over 12" from frame to ground, floorboard is now 11" from the ground, motor is 6" from the ground. Starting at
$7899
- Call us today! All CRICKETS have a standard EXCLUSIVE 5 YEAR BUMPER TO BUMPER WARRANTY when you buy your
cricket cart direct from us in Daytona Beach, FL.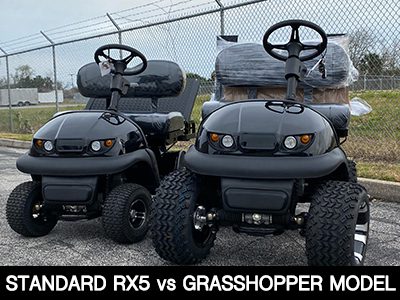 ---
---
---
Color Options


---
Register your new Cricket Purchase.
Grasshopper Model Owners Manual

Click Here to download the owners manual for the Cricket RX5 Grasshopper Model

Grasshopper Battery Wiring

Click Here to download the battery instructions for the Cricket RX5 | Grasshopper.
We deliver Cricket carts nationwide!
---
Grasshopper Purchase Request
---
We crate & ship Crickets to all 50 states.
Alabama
Alaska
Arizona
Arkansas
California
Colorado
California
Connecticut
Delaware
Florida- FREE PICKUP/$399 DELIVERY
Georgia
Idaho
Illinois
Indiana
Iowa
Kansas
Kentucky
Louisiana
Maine
Maryland
Massachusetts
Michigan
Minnesota
Mississippi
Missouri
Montana
Nebraska
Nevada
New Hampshire
New Jersey
New Mexico
New York
North Carolina
North Dakota
Ohio
Oklahoma
Oregon
Pennsylvania
Rhode Island
South Carolina
South Dakota
Tennessee
Texas
Utah
Vermont
Virginia
Washington
West Virginia
Wisconsin
Wyoming
---