Cricket Mini Golf carts can customize your cart to your specific designs. We have built custom personal carts, promo carts, show carts, retail display carts. We have fabricated beach buggies, warehouse transportation, oil refinery carts, mobile survey equipment, crew shuttles, people movers, landscaping cargo carts, city/county maintenance road carts. We work with various local, state and national municipalities to help assist in their transportation needs. Our carts can be made ADA compliant.
We design, build and fabricate all our mini cart projects in house. Our staff has over 45 years in design, tooling and fabricating custom vehicles to suit your needs.
Customizing your Cricket mini golf cart can be fun and exciting. We have partnered with over 15 cart suppliers throughout the U.S.- to provide only the best parts and unique parts for all Cricket mini golf cart models. The following models can be modified or customized for your next adventure, neighborhood cruise or just strolling the RV Park.
The biggest decision is what cart do I start with: Cricket RX5, Cricket SX3, Cricket ESV, Grasshopper,or Locust model.; all the cricket mini golf carts have their advantages of being customized to your liking! We can also just help with repairs or replacement parts on cricket golf cart. Lets get this golf cart party started!
---
All our unique parts and accessories are made here in the U.S at our shop in Daytona Beach, FL. We produce many parts on a Haas VF-3 SS milling machine. Watch Video
You cannot find or purchase these custom parts at any dealership!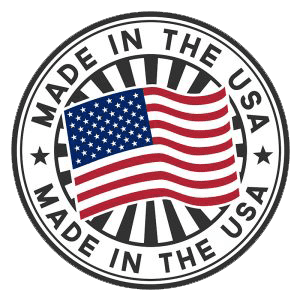 ---
HYDRAULIC CONTROLS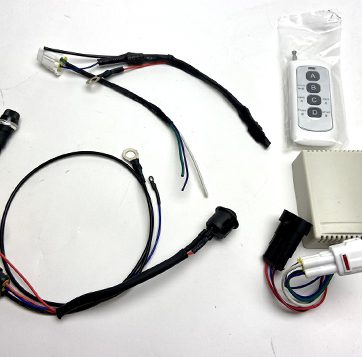 Wireless Remote Control to help with loading and unloading of Cricket Carts. Watch video We have developed a wireless remote to help assist some of the Cricket users in loading and unloading their units. It takes about an hour to wire in, and they can be used on All new and older Crickets Carts. Download instructions here for the 24V ESV model, 36V SX3 or RX5 models. Cricket Remote Operation
Call for installation cost
BEACH TIRES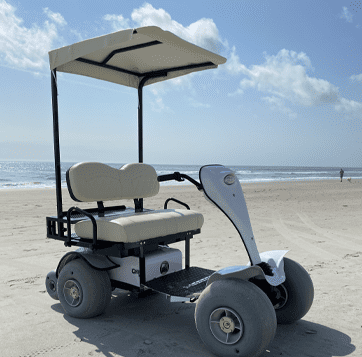 These tires are capable of climbing dunes, mud, sand, and various other terrains. Watch video They conform to the surface they are ridden on. We have multiple sizes. These tires are not drive-able (requires custom CNC hub) They come standard with plastic free spun hubs. *Custom hubs not included.
Call for installation cost
CUSTOM CNC BUILDS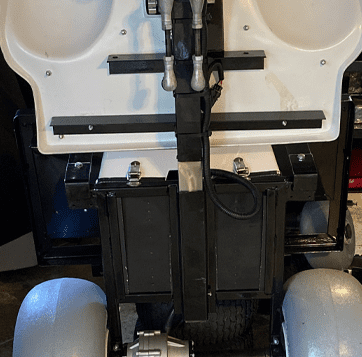 We can customize any Cricket for any type of functionality. Commercial or Personal use. Looking for a utility cart for warehouse work, looking to ride in the snow, beach or trails. We sit down with you and start at the drawing board. What will we ever come up with next? We never know, we have had many clients ask for multiple uses that we can't even fathom.
---