Cricket Mini Golf Carts 5 YR Cart Warranty Clarification
ATTN: ALL CRICKET BUYERS! (PLEASE READ)
We have been made aware that "Cricket buyers" have been duped into thinking they are getting a "5YR cart/5YR battery warranty with their cart purchase from any Cricket dealership. We even have had customers that have not purchased from us, fill out our warranty registration form and we have had to be the "bearer of bad news " to these individuals and tell them they have no warranty through us. There is no other warranty service provider that covers your cart nationwide.
NOT ALL CRICKETS ARE THE SAME.
If purchased from any dealer nationwide, you will ONLY receive a 1YR Cart/6 MONTH Battery Manufacturer Warranty -your warranty is NOT through your local dealer.
Your local dealer has no responsibility to cover what they just sold.
- WARRANTY COVERAGE | CART PURCHASE CLARIFICATION -
We would like to clarify our warranty. We are the only place that you will receive our Standard 5YR Cart | 5 YR Battery Warranty!

Purchased Cart Direct from Daytona Beach, FL Only
All purchase documentation states 5YR warranty
All our sales staff is trained to specifically state on the phone & in-person, our 5 YR Warranty is ONLY VALID from Daytona Beach, FL.
If you don't see our LOGO Branded on your battery case or under the seat, you DO NOT have a 5YR Warranty (see Image below)
1-888-795-2278 | https://cricketminigolfcarts.com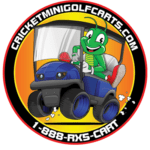 OUR NATIONAL 5YR CART | 5 YR BATTERY WARRANTY
Cart has to be purchased Direct from Daytona Beach, FL
Coverage on your cart is NATIONWIDE! No matter where you live or travel to- "We've Got Your Cricket Covered!"
Over 3800 Service Centers nationwide
All Service, Parts and Labor are covered 100%
Your cart does NOT need to be sent back to us for service or repairs- "We've got you covered locally!"